MINI GOLD PORTFOLIO 1959-1969.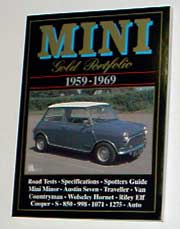 Click for larger picture
A collection of informative and interesting articles from British magazines. Includes road tests. specifications for Mini Minor, Austin Seven, Traveller, Van, Countryman, Wolseley Hornet, Riley Elf, Cooper, Cooper S, 850, 998, 1071, 1275 and Automatic. Softbound, 8 x 10-3/4", 176 pages, fully illustrated.
Part number: MB-151.
$24.95
Phone order #: 1-800-933-MINI (6464)